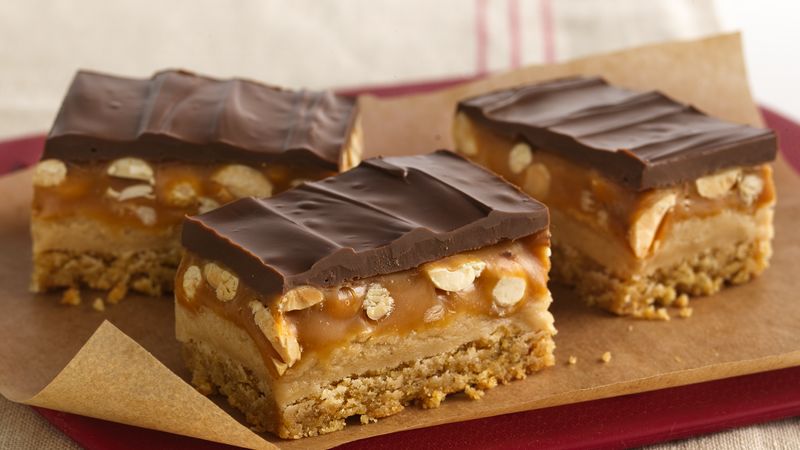 Had a great time hanging out with the family is the most awaited by most people. Because it has a busy daily activities makes us rarely have time berukumpul with his family. When the whole family get together you definitely want to prepare delicious food that can be enjoyed by all the family members as a complement when assembled together. However, when time owned when assembled short and you do not have an oven for baking are you can make your family's favorite cake? Not to worry, you can make the cake enakk without using the oven. You can use the recipe to make a cake without oven with ease. Then, how to make cake without oven at home easily? Here's some cake recipes that can be made without using oven.
PEANUT BUTTER BAR
INGREDIENTS :
2/3 cup refined sugar around 83gr
113 grams of melted butter melted
1/3 cup peanut butter around 90 grams
1 1/2 cup cracked biscuits
200 grams of chopped black chocolate
3 tablespoons peanut butter
HOW TO MAKE :
Prepare a square pan, apply on the inside with oil. Place on top of the container that has been given bread paper.
Put sugar, butter and peanut butter in a container. Stir until all the ingredients are well blended and soft textured. Enter the crumbled biscuits and stir until smooth again.
Add the peanut butter bar mixture to the pan and spread it with the spatula. And let it cool.
Topping :
Melt black chocolate in a double boiler, add peanut butter. Stir until all mix well.
Pour the topping over the bar layers and flatten. Put it in the refrigerator for two hours, or until it hardens.
CHOCOLATE CHEESECAKE
INGREDIENTS :
THE BASE CAKE :
53 grams of cracker biscuits that have been destroyed
2 tablespoons melted butter melted
CHEESE CAKE MATERIALS
1/2 cup about 120 ml whipping cream
2 tablespoons of sugar
1/2 teaspoon vanilla extract
1 tablespoon cocoa powder
100 grams of melted cheese cream
100 grams of less sweet chocolate that is melted and cooled
Powdered cinnamon and wafer to taste as decoration
HOW TO MAKE :
Add cracker biscuits that have been smoothed into the container, add liquid butter to stir until both ingredients are well blended. Prepare to put the pie and cupcake pie, put this dough put the cake, spread it and refrigerate in the refrigerator.
Filling :
Beat cream until fluffy, add sugar, vanilla extract, and cocoa powder. Mix well.
Blend or smear cream cheese, add cold chocolate liquid. Stir well.
Mix the dough filling into cream cheese, stir well until all mixed.
Insert it into place the cake that has been frozen. flatten it. Refrigerate in refrigerator
Those are some recipes to make cakes easily without using the oven. You can use it when making cookies to hang out with your family at home. By using the existing equipment, you can make a favorite family cake as a complement to gather together to spend your time off. Happy trying!